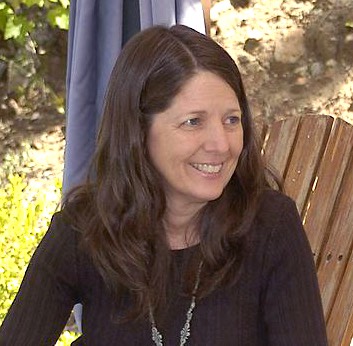 For as long as I can remember, I have been creating art in one form or another- drawing, painting, clothing design, costumes, props, and many forms of crafts. I have enjoyed a wide variety of subject matter but my fondest inspirations have come from nature.  Raised in California from birth, and traveling often throughout the wilderness areas of the western United States with my father, a field biologist and nature photographer, I acquired a deep appreciation for mountainous landscapes and the natural world in general. 
I began college as an art major, specializing in photography but finished my education with a degree in biology. Some years later, when I realized commercial employment had taken me too far away from the natural world, I returned to my artistic pursuits and discovered a new, creative use for fabric.
It is has been a challenge to come up with a word or simple phrase to define my art form, both in terms of the process and the images. At different times, various people have had some good thoughts on this. My husband recently came up with the term, "Impressionist textile watercolor collage". I think that seems appropriate. It can also be called 'emergent art', since I never know what I'm going to get. But to add that to everything else is a bit of a mouthful. To read more about the process, please click here.
In my mid-thirties, I gained a unique perspective of the Earth by becoming a private pilot. At one time, I thought I wanted to venture to the stars. And then I saw the earth from above in a small plane - the forests, the oceans and lakes, the mountains. How truly amazed I became, though not just with the vistas from a small plane. There is so much in nature right here on Earth that inspires me, from the patterns in the skin of a lizard to the giant, ancient trees and great twisting canyons. I can't help but express this amazement in my art.
Of course, it goes deeper than that. I won't go into it here, but you may notice there are no signs of humanity in my artworks. No buildings, boats on the lakes, not even a path. I have no agenda, this just happens. It means something to me which is hard to explain. From all the comments I have received, it clearly means different things to different people. And that's just fine with me. If you'd like to read more about me, you can check out my blog here.
I am currently living in Nevada City, California with my husband, Chris Anderson. Other than creating my art, I also enjoy hiking, gardening and working on our land, horseback riding, cooking, writing fiction, and sewing. I no longer own an airplane but flying is great fun, too.


If you'd like to read some testimonials, please click here.
To see a list of past shows and exhibits, please click here.
To view my portfolio, please click here.